Five star Hobart skip bin hire and waste disposal service. 2m³, 3m³, 4m³, 5m³ and 6m³ skip bins available for immediate delivery from all our bases, local to Blackmans Bay and Cambridge.
We have a long history of competitive pricing and efficient operation having helped over 10,000 clients with their skip bin requirements since 1995.
Our team members are cheerful, prompt, courteous, careful and respectful of yourself and your property.

Call Island Bins for same day delivery (before 10am) and our team will respond as quickly as possible to deliver your skip bins.  We accept all waste material in our skip bins apart from Hazardous Material
For instant pricing on your Skip Bins use our Price Calculator.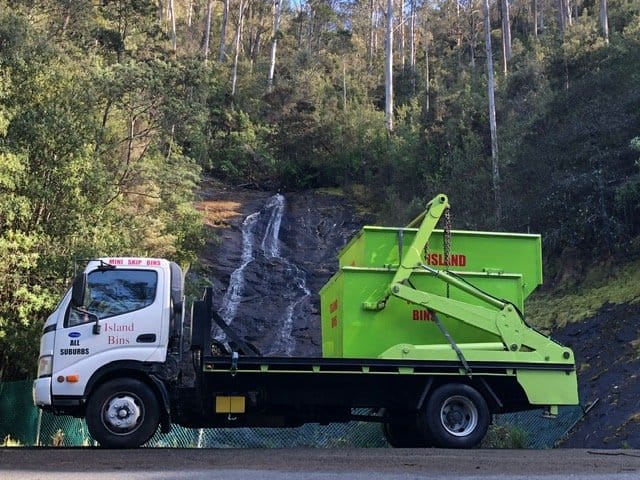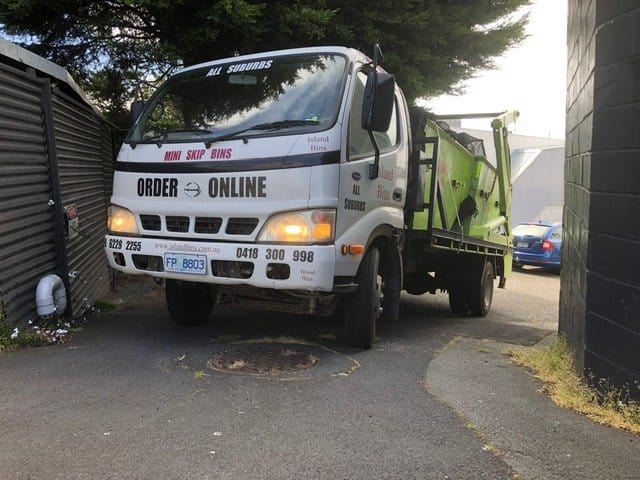 If you need a fast response during the week as in you need it right now, call us on
between 8am and 6pm, and we'll do our best to get a Skip Bin to you on the same day; we have trucks operating throughout Hobart and environs all day Monday to Friday.
We service all suburbs and some country areas around Hobart.  We are based in Kingborough and on the Eastern Shore – check our area of service, and if your area is not listed please contact us.
Skip Bin Hire Hobart Prices
Here's what you get for as little as $185

Box Trailer Comparison
Based on heavy duty 6x4 (1.2mx1.2m) trailer with 'deep' 500mm sides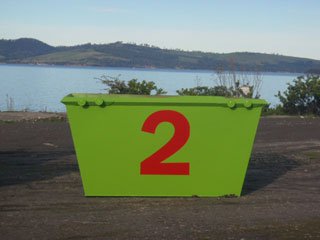 250kg weight included in the price.
Fitted with drop down doors for easy access – great for wheelbarrows
Suitable for soil, rubble, rock, concrete.  Our cheapest skip bin.
Perfect size for small cleanups, rubbish removal around the yard.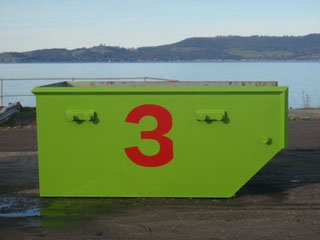 375kg weight included in the price.
Open end for easy loading
Our mid-sized skip bin is ideal for a bathroom renovation or cleanup around the house and garden.
Perfect bin length and height skip for builders.

500kg weight included in the price.
Open end for easy loading
Ideal for a full kitchen renovation or to clear a large amount of green waste for your bin hire.  Also Ideal for when moving house
The 4 Cubic metre bin is our best value skip bin size.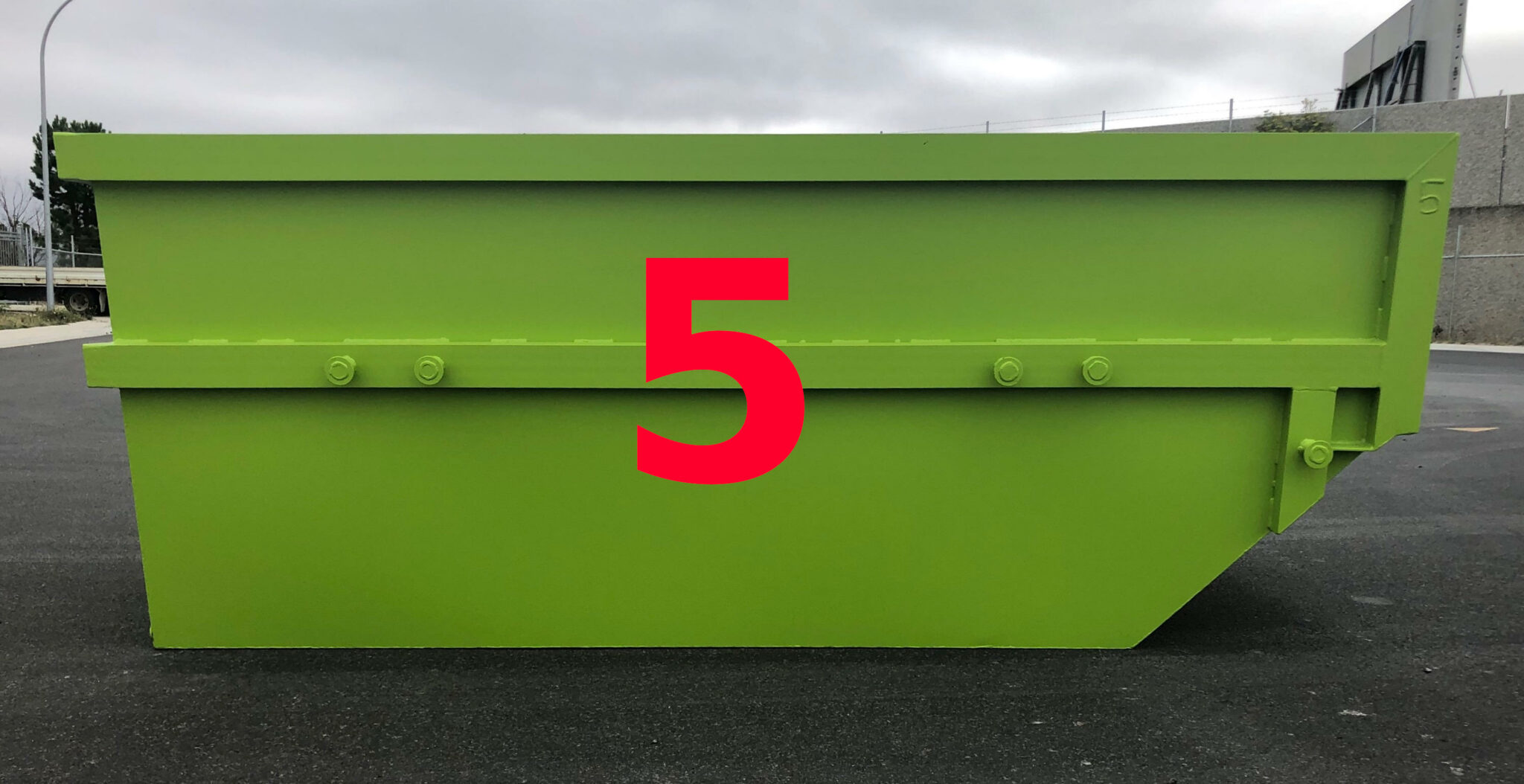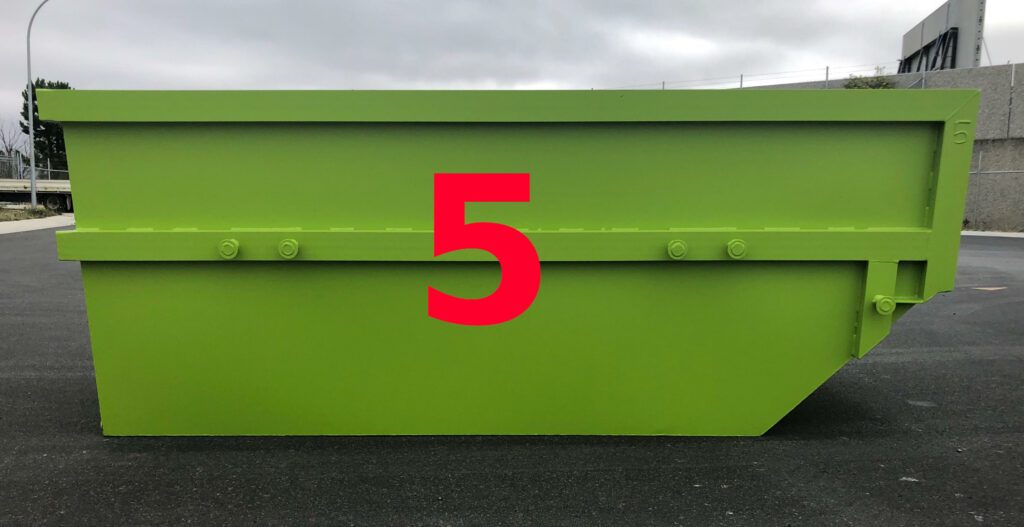 600kg weight included in the price.
Open end for easy loading
We have introduced the 5 cub meter bin to meet your needs when a 4 cub bin just isn't quite big enough and that one extra cubic meter is the perfect size for the job at hand.
A much larger bin for an additional $60 and great value too.

750kg weight included in the price.
Open end for easy loading
Ideal for a large green waste skip bin clearances and house clean ups.
Our 6 cubic metre skip bin will give you plenty of room to work with, allowing you to complete the job fast.
If your Skip Bins weigh heavier upon presentation at the waste facility, we will pass the additional charges, onto you, the customer.  Additional charges listed below. 
Our trucks can lift a maximum of 3 tonne.  Should your skip bin weigh in excess of 3 tonne, you will be asked to remove excess so the skip is lift-able.
Cheap Skip Bins Quality Service
Hassle free delivery and pickup
Island Bins provide a no-fuss service. Confirming with us what we were needing the bin for so they could provide the right advice to us. The bin was delivered and placed where we asked, with a no hassle pick-up a week later. We would highly recommend Island Bins.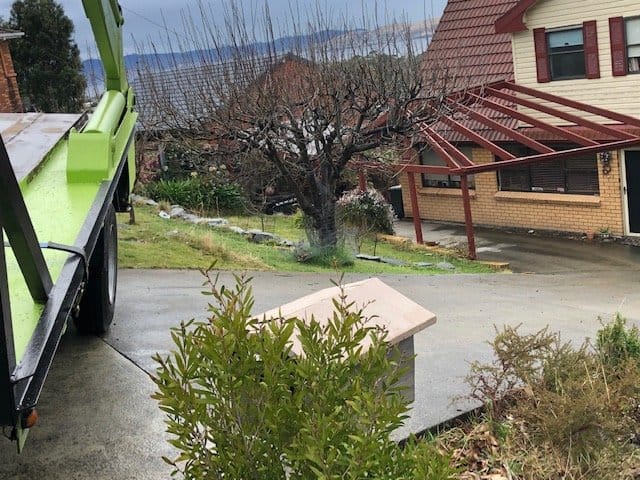 Professional and meets requirements
My parents have used Island Bins when cleaning out the house and the service was excellent. I would definitely recommend calling Island Bins for your skip bin hire.  They are very friendly and professional and I would guarantee Island Bins would meet every requirement.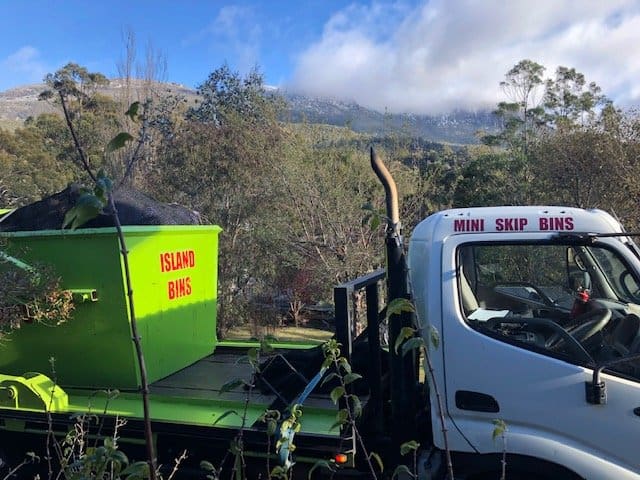 Frequently Asked Questions
How long can I hire the skip bin for?
Our general hire period is 7 days. An additional daily rate is charged for longer hire periods.
What does m³ mean?
Our skip bins are specified by the volume of material they can hold. 2m³ means two cubic metres.
Where can your skip bin be placed?
The skip bins are unloaded from the rear of the truck. We can put the skip on driveways, lawns, or even over small fences. A local council permit (here are the links to Hobart and Kingborough.) is required if the skip is to go on the street. Skip bins must not be moved once placed in position by us.
How can I pay?
We accept payments by credit card, cash or cheque on delivery, and electronic funds transfer (contact us for details).
Are there any charges additional to the quoted price?
Normally, no. However if the load exceeds 125kg per cubic metre, a pro rata is charged for excess weight. Additional charges can also be passed on if your skip bin contains a different or additional type of waste (other than what you specified when ordering).
Our standard Hobart skip bin hire service is zone covered by locally based trucks and is inclusive of all the suburbs listed below.
Excess charge Service Zone
Mileage fee's apply for areas outside the zone of service
Our excess charge service zone is covered by our trucks as well, it is inclusive of all the environs listed below.  Skip bin hire customers for deceased estates, construction, house moves still find great value and convenience from our service.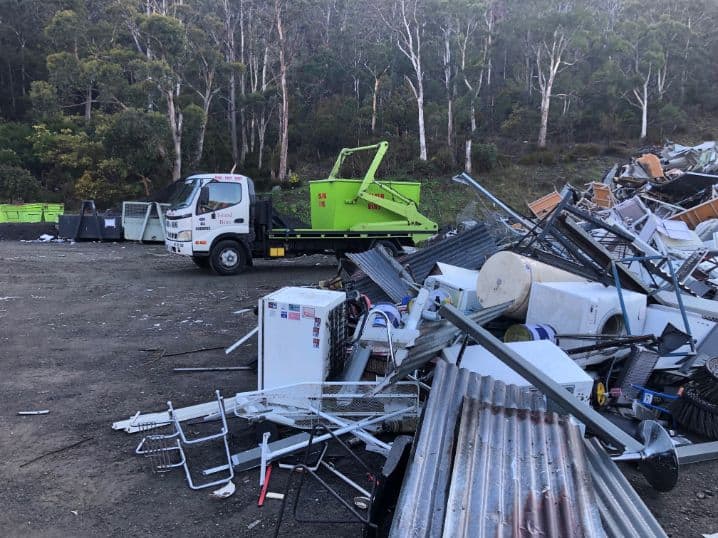 Rubbish removal Hobart tip D.I.Y Vs Skip Bins
If you decide to take the waste to the tip yourself rather than skip bin hire, ring your local council making sure you are allowed to dump there and your particular type of waste.  Rubbish removal in Hobart is fairly straight forward compared to other capital cities.
Should you have restricted waste such as asbestos/oil, contact these disposal stations. You may need to contact a specialty contractor for these specific waste types.
Pro's and Con's of visiting the tip
You don't have to pay for skip bin hire
You still have to pay the tip fee
Your car can get muddy or even bogged in Hobart
Damage and dirtying inside of the boot/car
Time spent on transport and unloading
There are different sections for each recycled waste type
Your items will not get re-used if you put in the general waste section
Check out our price calculator and see if skip bin hire makes sense for you.